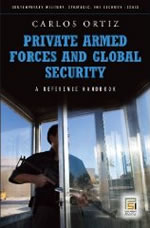 In the preface to the first edition of
Private Armed Forces and Global Security
, Ortiz writes that when he started researching the subject of his book, back in the mid 1990s, people sometimes thought of him as perhaps an arms dealer disguised as an academic. Times have changed and now nearly everyone has an opinion about the growing use and proliferation of Private Military Companies (PMCs). PMCs take center stage on this book. However, the narrative also covers the main types of adverse private forces, such as terrorist networks, insurgents, rebels, mercenaries, pirates, and the paramilitary wings maintained by drug cartels.
Private armed forces are nothing new. The estimated ratio of contractor to military personnel during the American Revolution was about 1 to 6. However, the use of PMCs has proliferated exponentially since the 1990s, and today, they are sometimes seen as a threat to global security. But are PMCs dangerous or a necessary adjunct to U.S. forces and international peace and stability missions?
A common misconception about what PMCs are and do originates in a tendency to equate PMCs with the types of adverse private forces noted above, particularly mercenaries. Far from it, Ortiz disentangles all these types of actors an situates PMCs opposite them, as entities ultimately hired to counteract the advances of adverse private forces and in the process to enhance global security.
Indeed, this fresh approach makes Private Armed Forces and Global Security to go beyond conventional knowledge, offering both a theoretical approach and a new, practical perspective of the ongoing climate of global instability and relevant players within it. Moreover, numerous examples and appendixes (including extracts from key security regulation documents, profiles of international terrorist organizations and drug cartels, and lists of PMCs) help the reader grasp the full range of real-world challenges and conceptual facets surrounding this fascinating, yet highly polarizing topic. We at PrivateMilitary.org are happy to introduce a book that addresses complex issues in an accessible manner and introduces a fresh and original approach towards the understanding of PMCs.
B r a v o!
ABOUT THE AUTHOR:
click here
TABLE OF CONTENTS:
click here
GREENWOOD CATALOG
http://www.greenwood.com/catalog/C35592.aspx
LIBRARY OF CONGRESS LCCN Permalink
http://lccn.loc.gov/2009046663